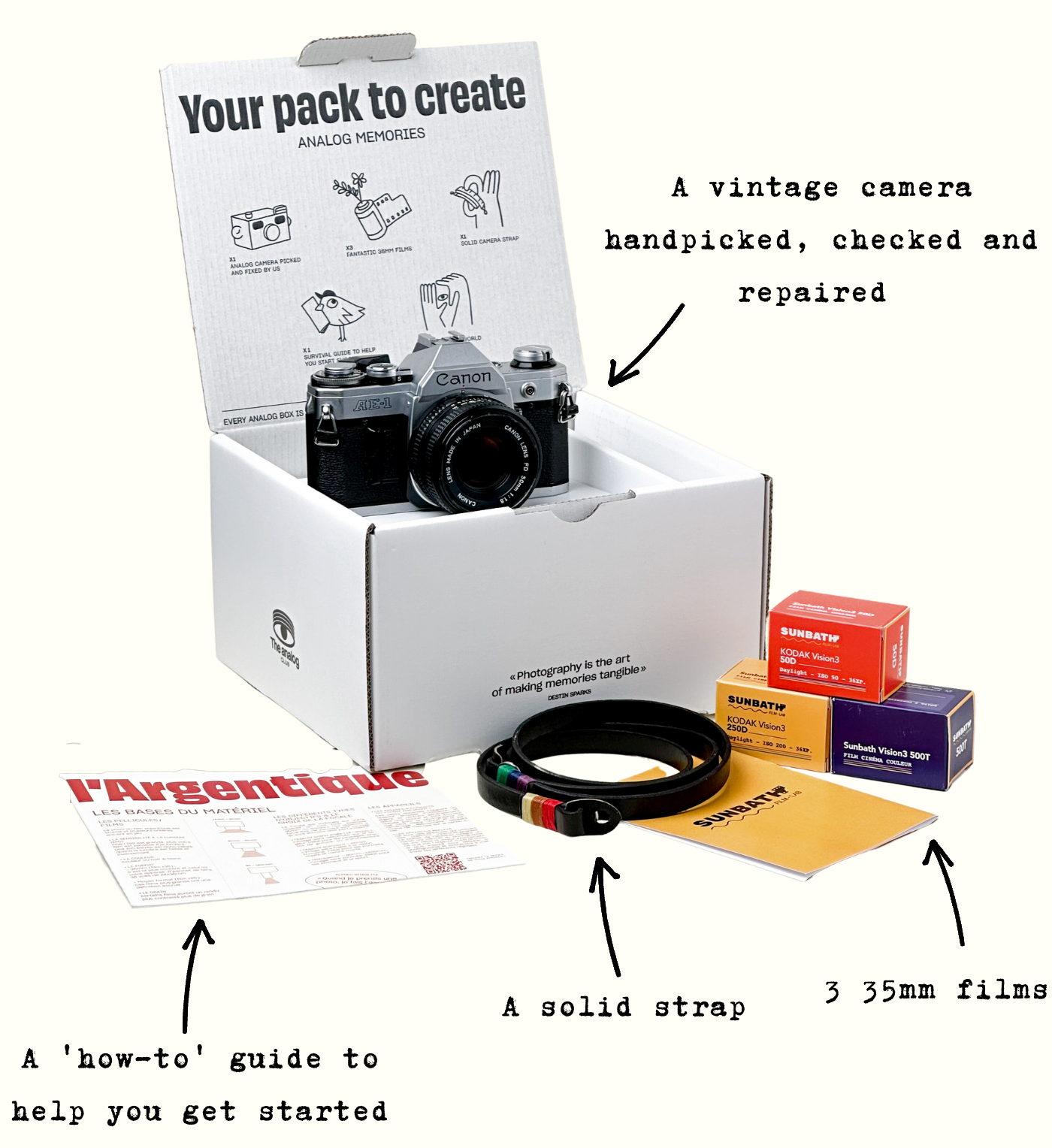 THE ANALOG BOX
The ultimate film photography kit
1 analog camera (paired with a lens) revised by our team of experts
3 different 35mm film rolls to start shooting as soon as you receive the box
1 "how-to" guide written by us to help you dive into analog photography
1 solid camera strap
1 fresh battery for your camera
Through this project, we aim to give a second life to light-deprived vintage cameras. From flea markets to collectors, passing by friends and private sellers, we carefully handpick them from different sources.
We then send them to our camera repair workshop in Lyon, where our experts Myya and Virginie start a long and meticulous refurbishment process: each device is diagnosed, revised and repaired.
The one you will soon hold in your hands is set for a new life!
In the kit, we provide 3 different 35mm film rolls so you can start shooting as soon as you receive the box.
You'll be given the option to choose between 2 Film Packs while purchasing a box, the Classic Film Pack or the Sunbath Film Pack.
Learn more about each pack and the films that come with it on the product page.
Need advice on how to pick the right camera for you? We are here to help.
Take the quiz to find the Analog Box that suits you best.
I bought the Analog Box for my sister for a Christmas gift, and helped her set it up. First, it's a very nicely designed product, with well thought out packaging and accessories. There is a small guide to analog photography as well as enough film to get anyone started! The camera was repaired and fully functional, and looked practically new. Overall the Analog Box is a very cool product and a good intro or continuation into analog photography, made by a passionate and dedicated team. I'm looking forward to maybe buying another one in the future. Great work!
The box was amazingly presented and contained everything I needed to start immediately to shoot. The team was also following up on the purchase giving me advice on where to find further information about the camera, such as full manual in all languages and some tips on the films and how to use them in my specific camera.
Perfect vibe, nice identity. I've in the past bought a camera on ebay but it was broken. Here, I was sure that I'd be buying a camera from a trusted source. As a beginner, for me everything was great.
Very happy! I'm a specialist in vintage music equipment use and maintenance, but a complete amateur when it comes to analog photography. Being able to get a reconditioned camera with films and a manual is great!
What makes The Analog Box stand out? The unboxing experience. The quality of the packaging. The leather strap. The guide on analog photography (very educational). The fact that several films are included and the accompanying Sunbath leaflet.