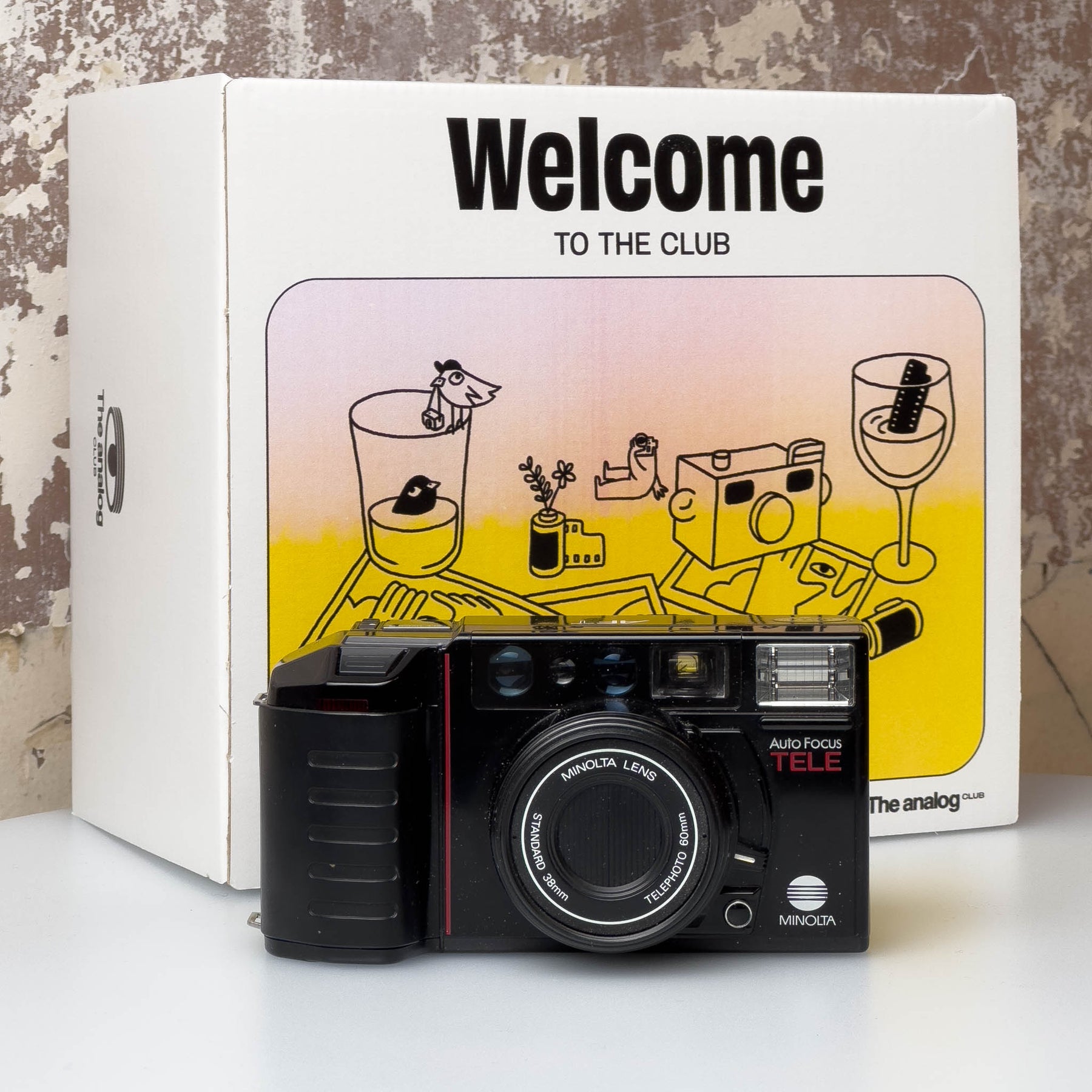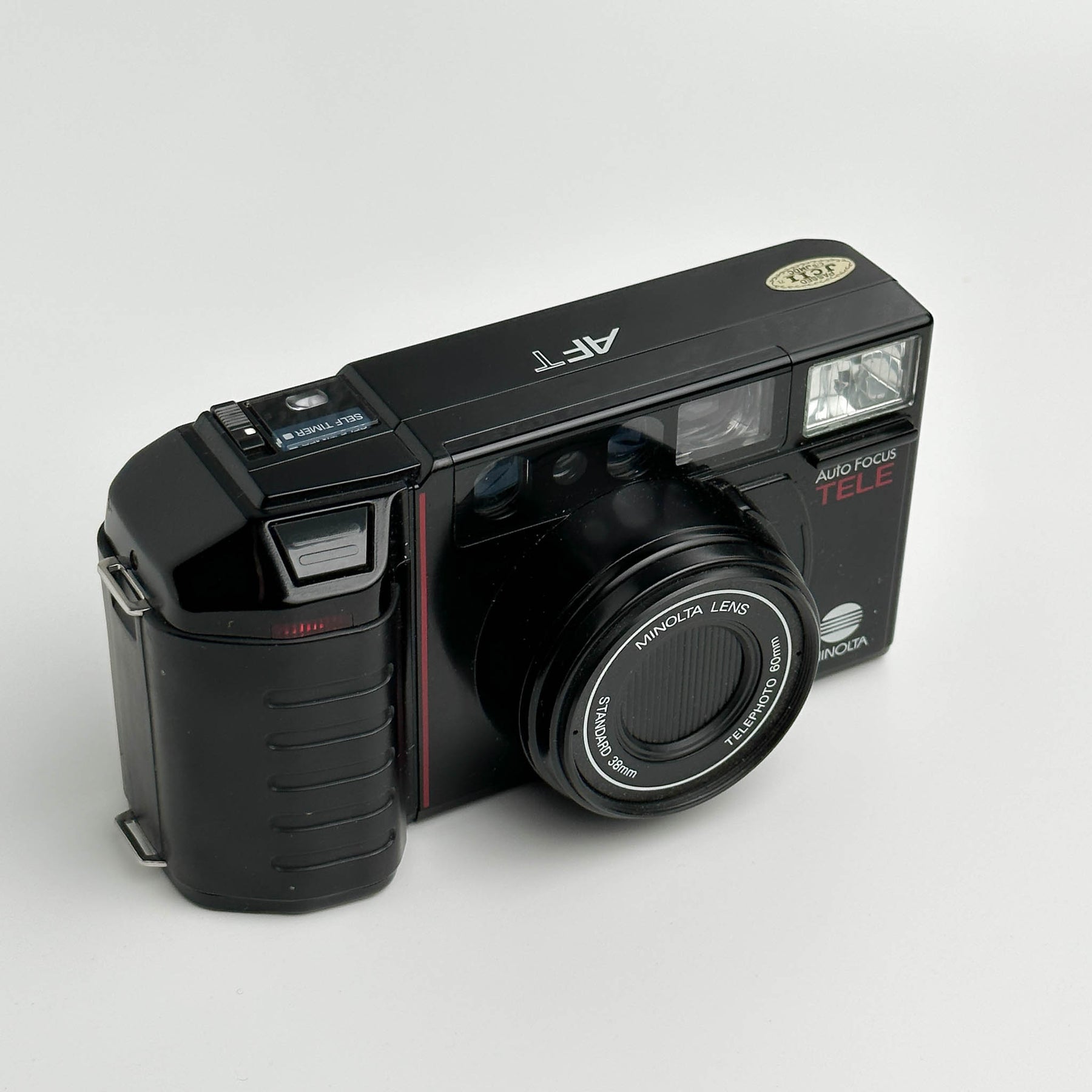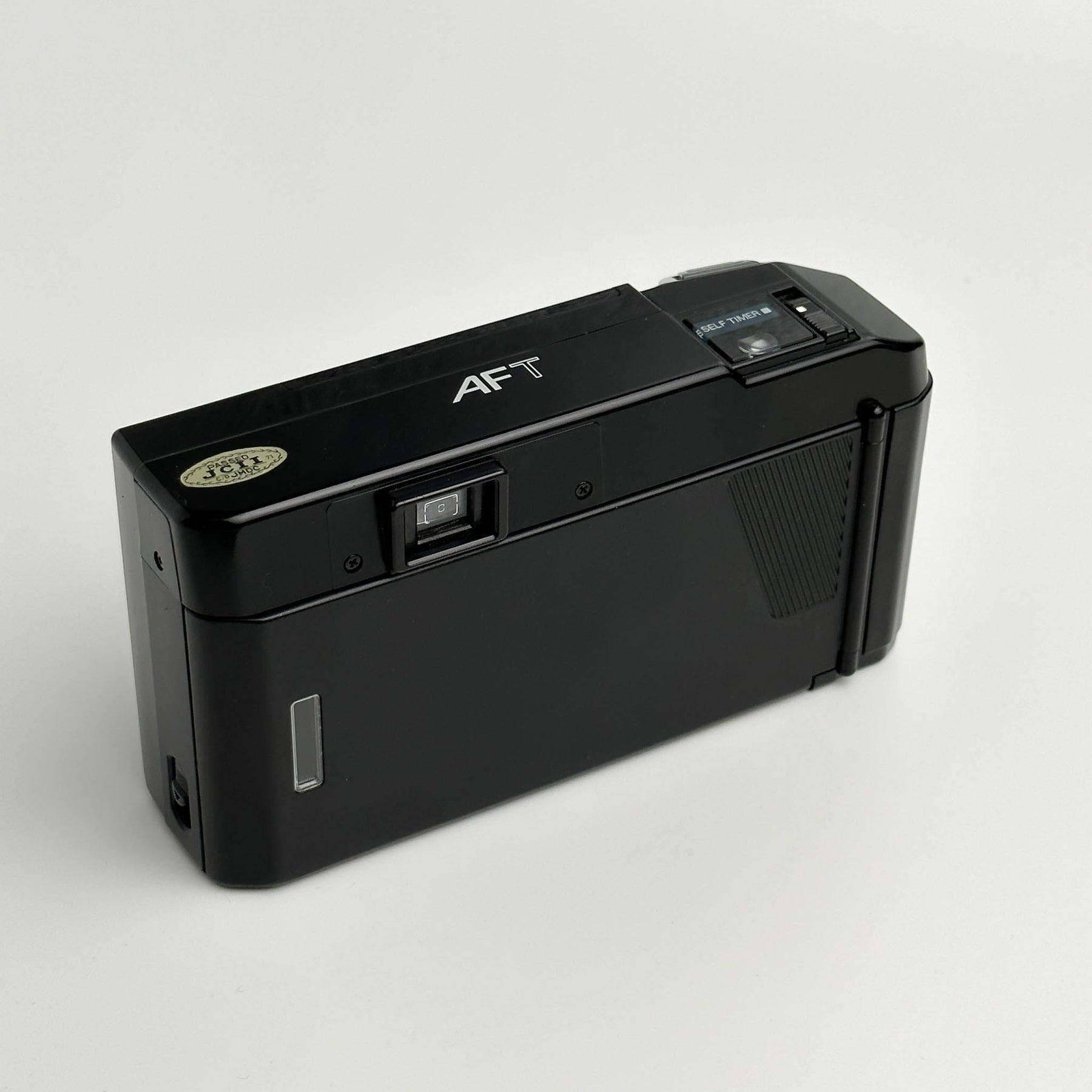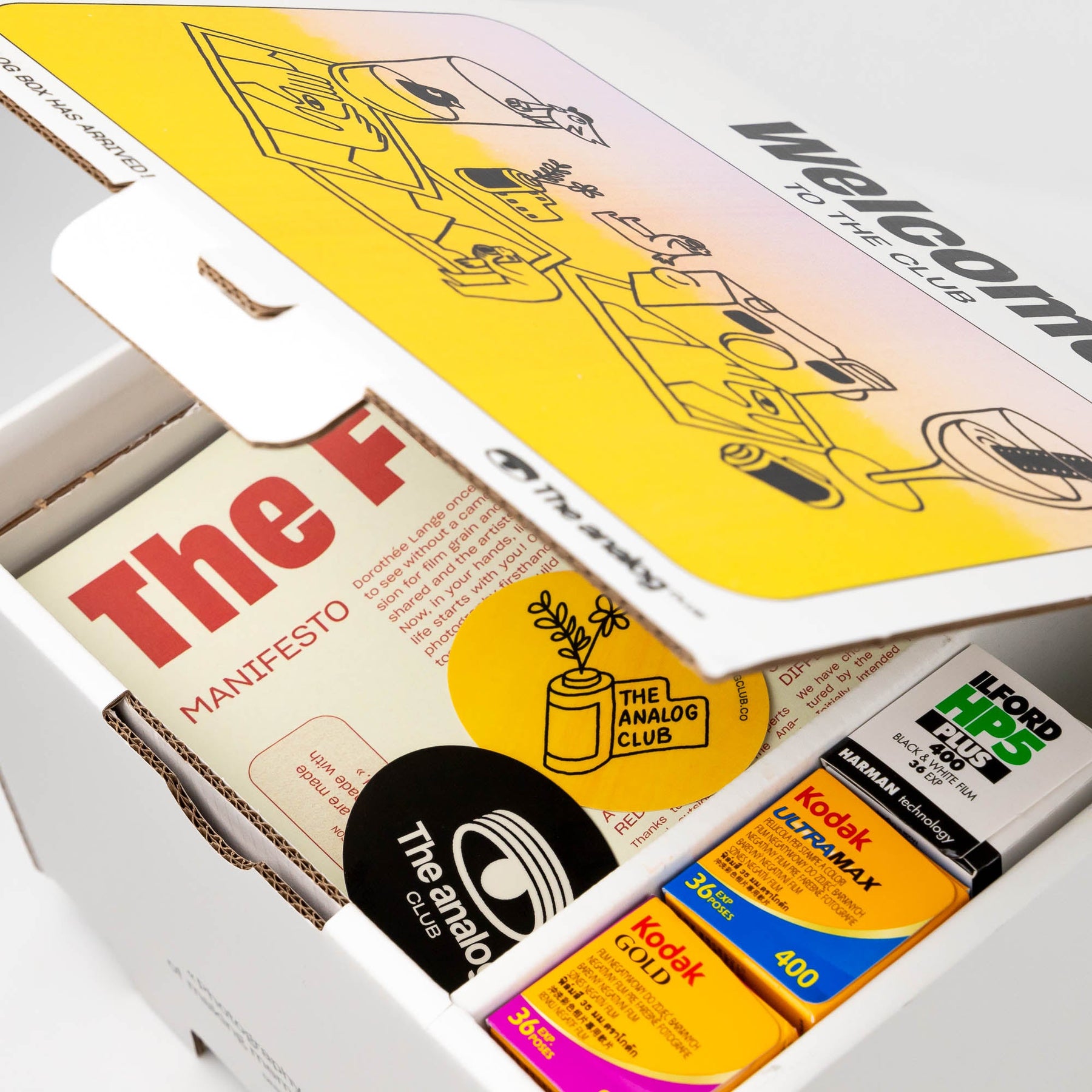 Analog Box N°40 - Minolta AF T
📷 Camera: Minolta AF T (1985, Japan)
🔬 Lens: 38-60mm

✔️ Condition: Revised, cleaned and tested by our team.
Aesthetics: ⭑⭑⭑⭑⭑
Mechanics: ⭑⭑⭑⭑⭑

📦 What else is in your box? three 35mm films / a new battery / a solid leather camera strap / a 'How-To' guide to help you dive into analog photography
Pickup currently unavailable at CENTQUATRE-PARIS
Analog Box N°40 - Minolta AF T
CENTQUATRE-PARIS
Pickup currently unavailable
5 Rue Curial
By appointment - Monday to Friday - 9 AM to 6 PM
75019 Paris
France
+33670614973
📦 Estimated delivery time: 🇫🇷 3-7 business days / 🇪🇺 5-10 business days / 🌎 7-14 business days. Customs and duties taxes are not included.
Have a question? Contact us!
Need advice on how to pick the right camera for you? We are here to help.
Take the quiz to find the Analog Box that suits you best.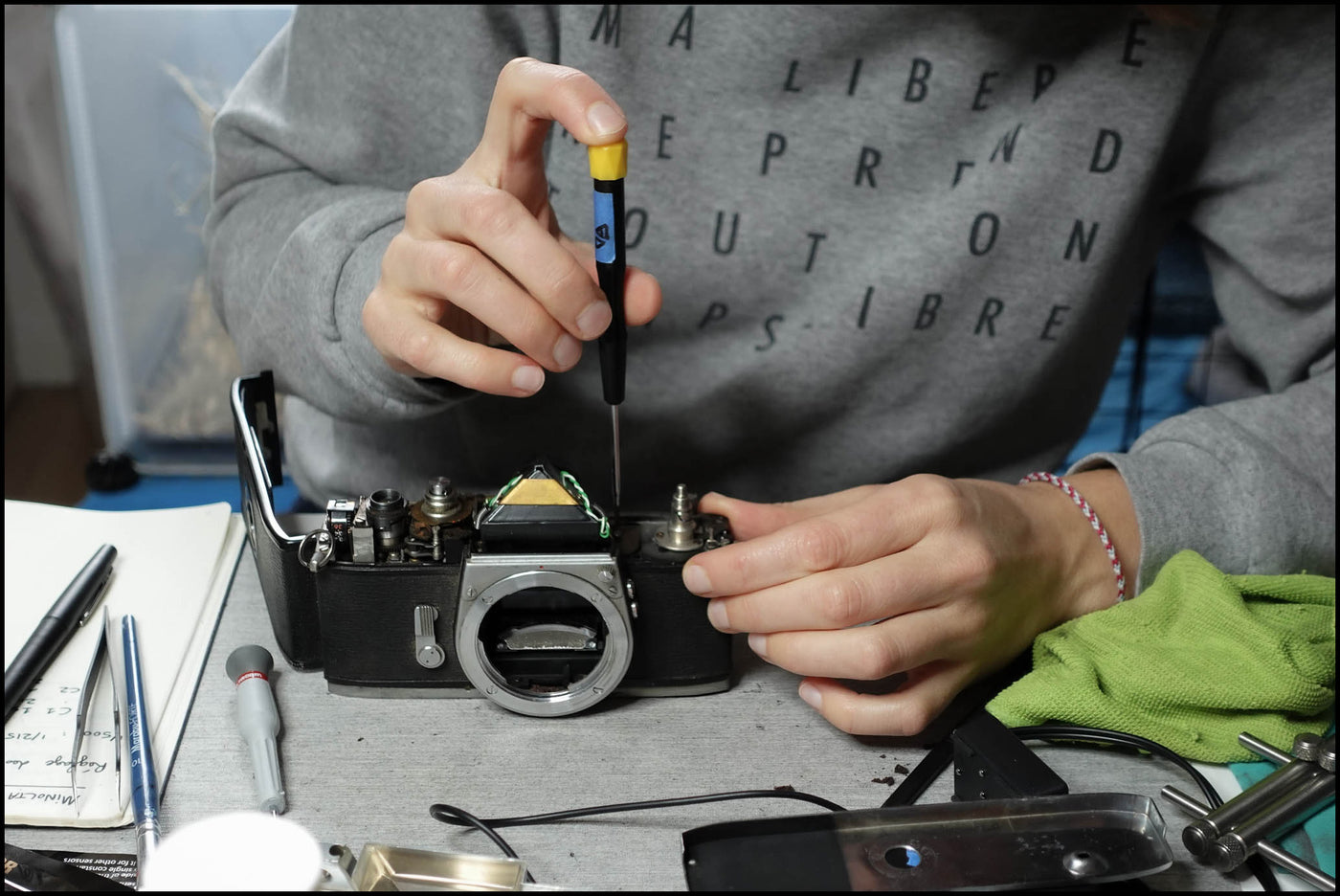 OUR PROCESS
On giving old cameras a second life.
---
From flea markets to collectors, passing by friends and private sellers, we carefully handpick our cameras from different sources and perform basic verifications to ensure they are operational or can be repaired.
A deeper diagnosis is then performed by our technicians Myya and Virginie. Most of the time, these 30+ year old cameras need to be revised or repaired before they can be used again.
The light seals are changed, the lens cleaned and the shutter speeds adjusted, among other things.
A quality assurance check is then carried to ensure nothing was overlooked.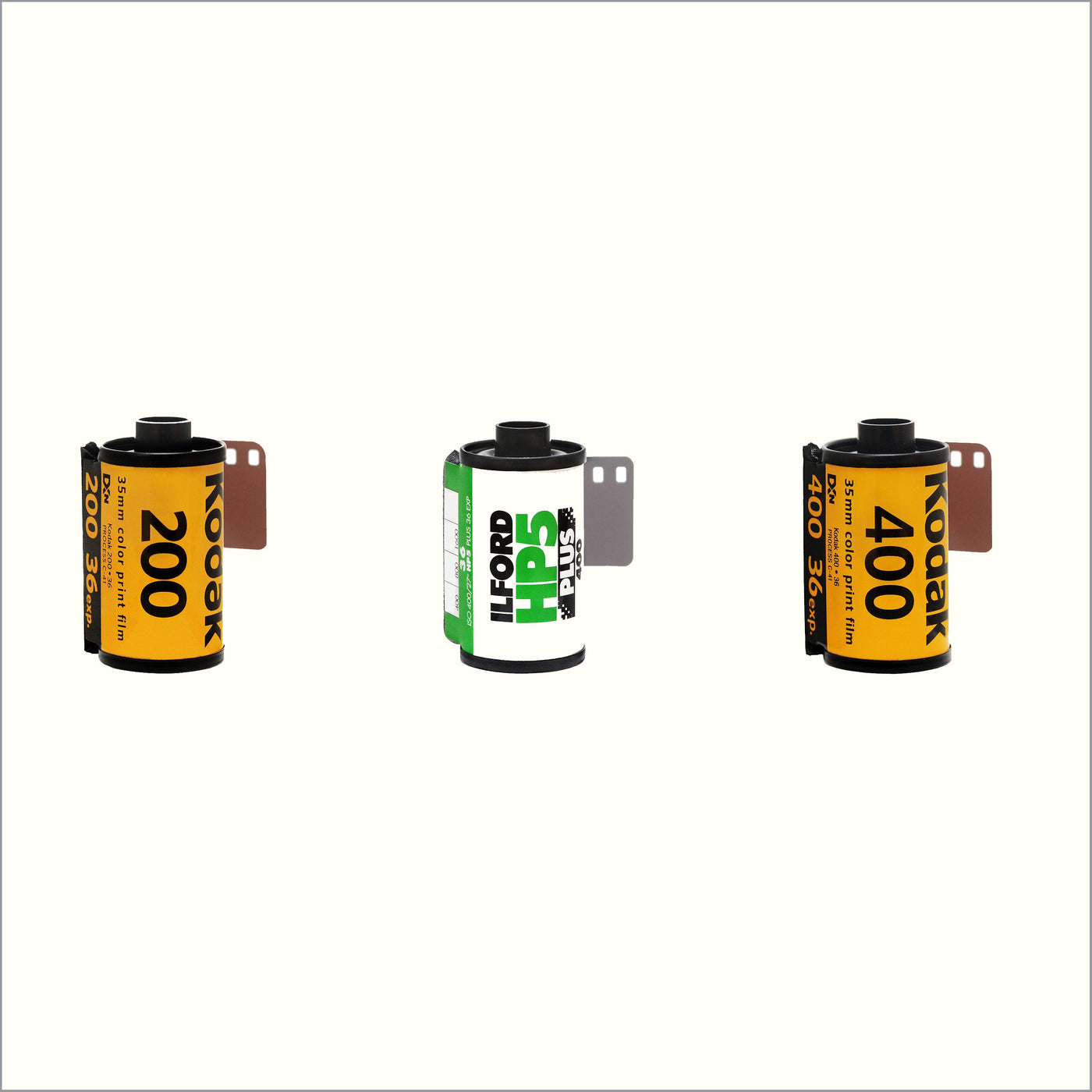 CLASSIC FILM PACK
A mix of Color and B&W C-41 films.
---
Feel like experimenting with both color and black and white?

With 2 Color and 1 B&W film rolls, this pack is designed for photographers who are ready to dive head-first into some of the most popular films on the market today.
Whether you're a seasoned film photographer or just starting your analog journey, it caters to diverse photographic styles and guarantees exceptional results.
Kodak Gold 200: a color-negative film perfect for all types of photography. With its accentuated warm color rendition, fine grain and wide exposure latitude, it can handle any light you throw at it.
Kodak Ultra Max 400: a versatile color-negative film that offers vivid, accurate colors and sharp, fine imagery. Color-balanced for smooth skin tones and natural hues, it delivers bright blues, greens and reds out of the box.
Ilford HP5+ 400: one of the best-selling black-and-white film and a classic from Ilford. Perfect for low-light situations, it produces deep, rich tones and excellent sharpness.
C-41 film development is a widely adopted and popular process for developing color negative films. It has become the standard method for processing color films due to its convenience and compatibility with modern film stocks.
With most commercial labs and even some local camera stores devoting at least one machine to this development process, finding a place to develop the rolls in this pack is very easy nowadays.
Frequently Asked Questions
The Analog Box
To reduce friction and offer you a smooth experience, we include everything you need to start shooting as soon as you receive your box. Inside you will find:
1 analog camera (paired with a lens for SRL cameras) revised by our team of experts
3 different 35mm film rolls (you can choose from 2 different packs of 3)
1 "How-To" guide written by us to help you dive into analog photography
1 solid camera strap
1 fresh battery for your camera
A film format basically represents the size of the film. The most popular film formats are 35mm, medium format (120/220), or large format (4x5, 8x10). For now, we only sell 35mm cameras (compact, rangefinder and SLR ones) but are considering extending our offering to other formats in the future.
From flea markets to collectors, passing by friends and private sellers, we carefully handpick our cameras from different sources. We prefer to select used vintage cameras to give them a second life, although we sometimes sell new cameras that come in their original box.
We take great pride in ensuring that every camera and lens we offer has undergone meticulous revision and repair by our team of expert technicians. Our dedicated professionals possess a wealth of knowledge and experience in the field, allowing them to carefully inspect, evaluate, and repair each camera to guarantee they're in excellent working condition when they land in your hands.
With our commitment to quality and expertise, you can trust that the camera you purchase from us has been carefully revised, and repaired to provide you with a reliable and enjoyable shooting experience.
Several factors are considered when calculating our prices to ensure a fair and competitive offering:
Market Price: We assess the current market value of the camera and lens models, taking into consideration factors such as demand, availability, and overall market trends. This helps us establish a price that aligns with the prevailing market conditions.
Camera Condition and Revisions: The price reflects the cost of revising and repairing the cameras and lenses to ensure they are in excellent working condition. We invest in thorough inspections and any necessary repairs to provide you with cameras that function optimally.
Additional Accessories: The Analog Box includes additional accessories so you can start shooting as you soon as you receive the box. The price considers the value of the film rolls, the strap and the guide that contribute to the overall package.
Brand and Model Reputation: The reputation and desirability of the camera brand and model also influence the pricing. Cameras from renowned brands or those known for their exceptional features or craftsmanship may have a higher price point due to their perceived value.
Rarity and Collectibility: If a camera is rare or has collectible value due to its age, limited production, or historical significance, it may be priced accordingly to reflect its unique attributes and desirability among collectors.
Customer Value: We strive to offer competitive pricing while ensuring customers receive a fair value for their investment.
By considering these factors, we establish a fair price that ultimately provides our customers with a comprehensive and satisfying package.
FINDING A GOOD MATCH
We put together a quiz to narrow down the options for you and help you find the Analog Box that suits you best. Help us out with a few questions and leave the rest to us, it'll only take a minute!
The type of camera: compact (point-and-shoot), SLR (single-lens reflex) or rangefinder (telemeters). Each type has its own features, capabilities, and shooting experience.
Its features and controls: determine if the camera has the functionality you need, such as manual exposure control, manual or autofocus, Aperture priority shooting mode or multiple exposure capability.
Film packs
Both packs offer 3 film rolls but there are 2 main differences to consider when choosing a pack.
1. The inclusion of a B&W film in the pack
The Classic Film Pack offers 2 Color film rolls and 1 Black and White one, whereas the Sunbath Film Pack only offers color ones.
2. The development process of the film
C-41 film development is a widely adopted and popular process for developing color-negative films nowadays. With most commercial labs and even some local camera stores devoting at least one machine to this development process, finding a place to get the rolls from the Classic Film Pack developed is fairly easy.
ECN-2 film on the other hand requires a specific development process that differs from the more common C-41 one and that is only available in select laboratories. Because it requires precise temperature control, precise timing, and expertise in handling the film, finding labs that offer ECN-2 film processing can be challenging. Although ECN-2 has been getting more and more traction lately, only a limited number of specialized labs are equipped to handle this unique development process. Rest assured though, if you pick the Sunbath Film Pack, you can directly send your rolls back to Sunbath or click here for a list of labs around the world that process ECN-2 film.
Compared to reflex cameras where the ISO setting is manually set by the camera operator, compact cameras automatically detect the ISO based on a code (called DX) located on the film canister's base. The ISO information is then used by the camera's exposure metering system to determine the appropriate exposure settings for the film.
Sunbath does not yet encode a DX code on their film canisters, which makes this film pack not suitable for compact cameras.
Shipping & Returns
We offer shipping within the European Union (EU) and to the following countries outside of the EU:
Argentina, Australia, Brazil, Canada,Chile, China, Egypt, Hong Kong, Kuwait, India, Israel, Japan, Lebanon, Mexico, Oman, Singapore, South Korea, Taiwan, Thailand, United Arab Emirates, United States, Vietnam.
If you are located in other countries, please get in touch with us at contact@theanalogclub.co. We understand that you may have shipping needs that go beyond those countries, and we are happy to accommodate these requests on a case-by-case basis.
Not satisfied with your Analog Box? You can return it within 14 days and get a full refund.
OTHER
Send us an email at contact@theanalogclub.co and we'll do our best to get back to you as soon as possible. You can also use our Contact Us page to reach out.